That's why you get


the e-premium for your GHG quota

In Germany (and soon also in Austria), mineral oil companies have to prove that they have reduced their greenhouse gases.

They can do this, for example, with the greenhouse gas reduction quota (GHG quota): You can have the calculated CO2 reduction of your electric car certified - and sell the certificate to a mineral oil company! With this GHG quota trade, the mineral oil companies are asked to pay. The money goes directly into your wallet. And, if you want, part of it goes into the neoom Carbon Portfolio. This way you let oil companies do something good for a change!

Because oil companies only buy GHG quotas in large quantities, we support you in receiving your e-premium.
Collect the ePremium for 2023 in just 5 steps.
300€ E-PKW |
443€ E-Nutzfahrzeug

10.525€ E-Bus |
300€
Sonstiges E-Fahrzeug
You want to check out neoom GREEN without APP download?
To the GREEN web view >



2. LOG IN & REGISTER
Register your electric vehicle and let us guide through the process.

3. E-Car Registration
Upload a photo of your registration certificate (front and back) to the APP and apply for the GHG quota.



4. IMPACT & Payoff
Decide how much of your GHG quota you want to invest in the neoom Carbon Portfolio and how much you want to be paid out.
*You must be an verhicle owner
Our service for you


& your e-premium

The GHG quota is the key to unlocking your E-Mission! There are many bureaucratic steps before your GHG quota is paid out. Therefore, the process will take 3-4 months. We make it as easy as possible for you and take care of the complex process.

1 - Check and collect the correct data
2 - Manage impact contribution to climate protection
3 - Submit an application to the Federal Environment Agency
4 - Monitor the process until the authority's review is completed
5 - Initiate payment of the e-bonus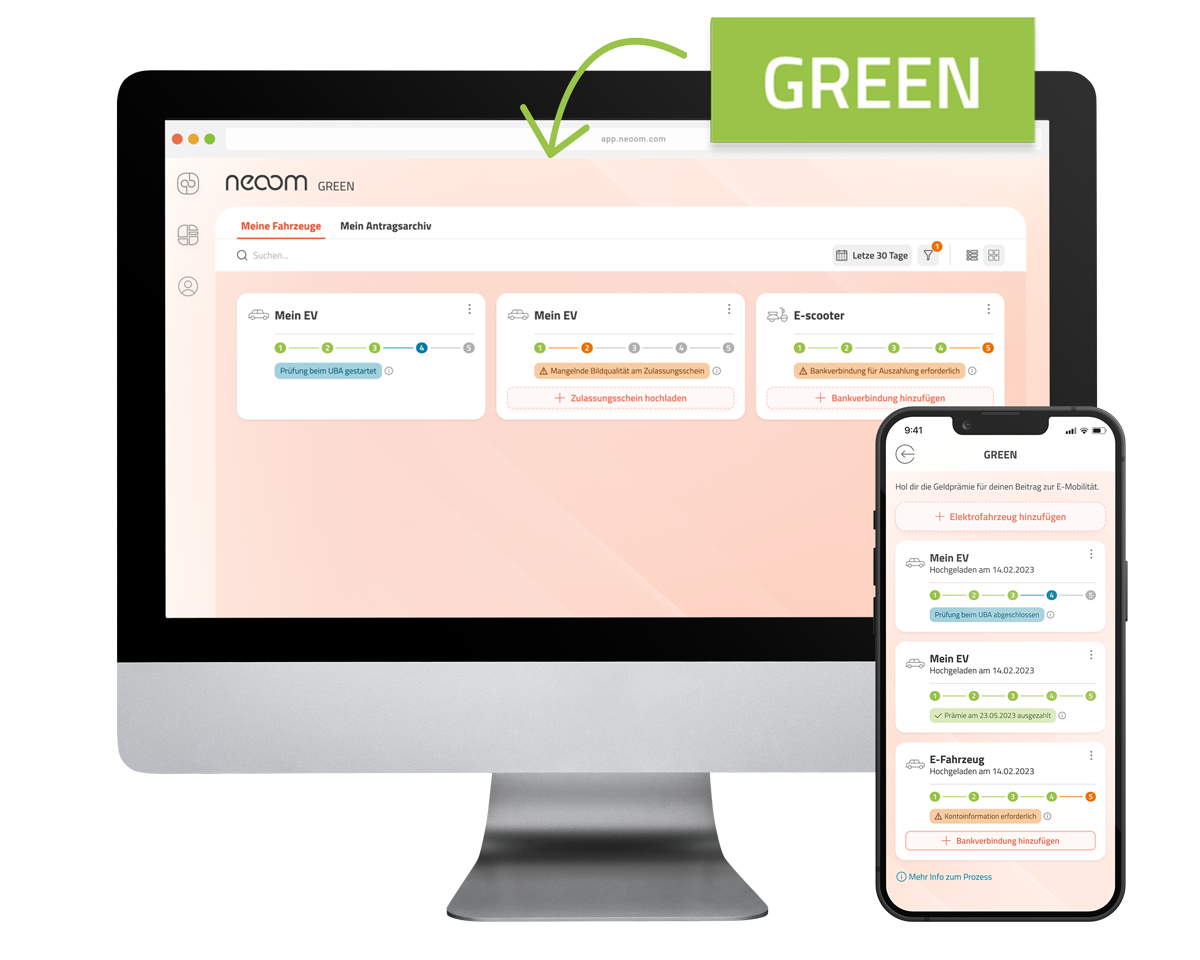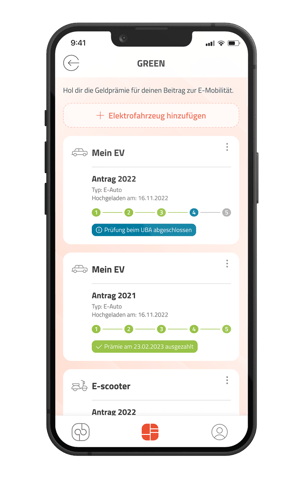 Download the APP


& keep an eye on the process

- Status visible at all times in the (web) APP
- We offer you the best mix of money & climate impact
- Simple payout to your deposited wallet
- Collect your quota annually with the reminder service

Prerequisites:

- Vehicle is 100% electric (no hybrid)
- Registration certificate in Germany
- You are entered as the vehicle owner in the registration certificate.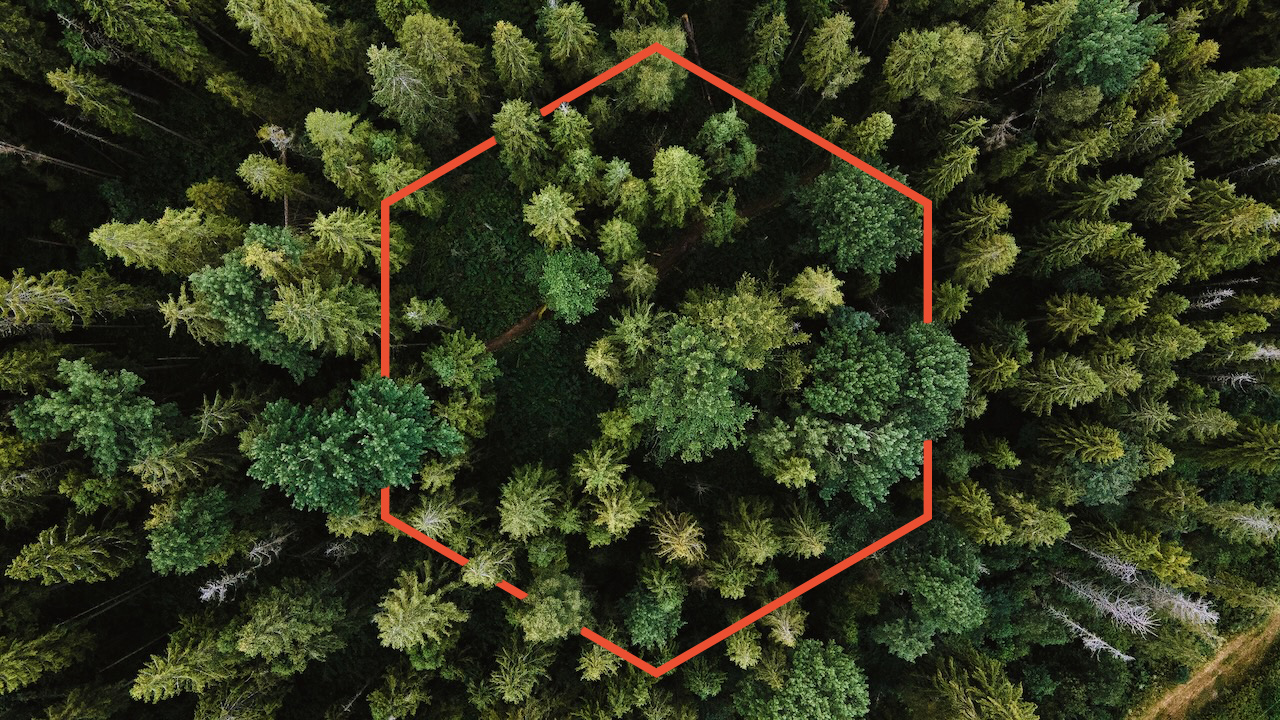 Impact contribution
Your impact contribution supports the change to more sustainable systems and removes CO2 from the atmosphere.
Exclusive high-quality climate protection projects
Maximum sustainable contribution through multi-stage partner assessment for quality, impact & integrity
Wide range of project types
Many sustainable projects can grow
Geographical diversification
High impact through projects in different places in the world
A small amount with a big impact
35€ impact contribution already corresponds to 1 tonne of CO2 in the Carbon Portfolio
You are not quite sure what these terms mean and what they have to do with our new neoom APP?
No problem, in our webinar we will show you how you can keep an eye on the energy flows of your energy systems at all times via the dashboard of the neoom APP. Moreover, we will show you how to set up or join an energy community unbureaucratically with the new KLUUB skill.
Register now for one of our webinars - and ask our product management experts your questions! 

The webinar is available in German.
Frequently asked questions and the right answers:
What is the process behind GHG quota trading?
The Federal Environment Agency of Germany certifies the CO2 reduction through e-mobility in the form of a certificate. This is available to both private and commercial owners of a purely electrically powered vehicle (BEV) with a German registration certificate. The CO2 certificate can subsequently be sold to a mineral oil company, which in turn takes the savings into account for the payment. You are thus supporting the decarbonisation of the transport sector. An opt-out is not entirely possible, as the federal government reserves the right to sell the certificates itself if not enough e-mobilists take advantage of the mechanism.
Can I receive the premium also outside Germany?
Currently, the GHG quota can only be traded in Germany. This means that your e-car must be registered in Germany.
Austria is following, but the new fuel ordinance stipulates that the Federal Environment Agency will not issue certificates for quotas until 2024. As soon as the information about the process and the amount of the GHG premium is known, we will let you know. We are currently working at full speed to prepare an offer for Austria.
Do I receive the GHG quota only once?
No, you can have the proceeds from your GHG quota paid out annually. If you get your GHG quota through us, we will remind you to upload your vehicle registration document next year.
In 2022, we can offer you €385 per registered electric car in Germany ( precondition is the completed application from launch until 13.2.2023 at the latest in the neoom APP in the GREEN skill). For 2023, the ePremium in Germany is currently 300€.
For Austria, we are working at full speed on a solution for our customers.
These statutory compulsory levies by the mineral oil industry are due every year. The prices that oil companies pay per certificate depend on supply and demand and therefore fluctuate.
Why should I invest in climate protection projects?
At neoom, we believe that the effectiveness of the GHG quota as a management tool will only be fully realised if the proceeds are also invested in the reduction of greenhouse gases. In order to ensure that you are not at the beginning of your carbon footprint again by selling your GHG quota and driving a car with a combustion engine, we offer you the possibility to invest as much of your premium as you want in climate protection projects. In this way, you use the money of the mineral oil companies and create real change. With your impact contribution, CO2 is extracted from the atmosphere in the most modern way and you support projects that avoid future CO2 emissions. You have the choice to double the carbon impact!
What happens when I sell my e-car?
The GHG quota may only be claimed once per e-car and year. Since this is a lump sum payment in Germany, you may of course keep the amount paid out, even if you sell your e-car. However, if you subsequently buy a car with a combustion engine instead of a new e-car, you can no longer have the GHG quota paid out.
In Austria, an aliquot payment is made based on the registration date of the vehicle, i.e. if you sell your car and are registered as the vehicle owner from 04 March 2023, you are entitled to the aliquot ePremium 2023 until 03 March 2023.
Do I have to document kilometers or consumption?
No. Since this is a flat-rate value per e-car, you do not have to document anything additional.
Can I participate with a leased or company vehicle?
If you are registered as the owner in the vehicle registration certificate, it is possible. Companies can also register the e-cars in their fleet.
Do I need to own an e-charging station?
No, it is sufficient if you are the registered vehicle owner in the vehicle registration certificate.
Is the payment of the GHG premium taxable?
In Germany, a nationwide publication was issued by the Rhineland-Palatinate State Tax Office on 10.05.2022. According to this publication, the GHG quota of privately owned vehicles does not have to be taxed. The generally applicable tax regulations are applied to the GHG quota of business vehicles. neoom is not authorised to provide tax advice. Therefore, please consult your tax advisor regarding your business vehicles.
As the implementation of the GHG quota in Austria is still quite young, there are currently no empirical values or more detailed information available. With regard to the taxation of the GHG quota, each neoom APP GREEN user is basically responsible. neoom is not authorised to provide tax advice. Therefore, please consult your tax advisor regarding your business vehicles.