Corporate Carbon Footprint of the neoom group
In order to know where we stand with regard to our emissions and to be able to build the reduction strategy based on this, we have calculated our corporate carbon footprint. The emissions generated there are divided into three scopes based on international standards:
In Scope 1 and 2, we have taken into account emissions caused by electricity consumption, heating and cooling requirements and the vehicle fleet. Scope 1 includes direct emissions from company facilities. Scope 2 includes indirect emissions from purchased energy.
Scope 3 includes our emissions from the use of private vehicles for trips to or from work, flights, train journeys, home office, hotel accommodation, IT (electronic devices) and external data centers.
For example, no Scope 1 emissions are caused at our Vienna location, since our Vienna fleet consists of 100% electric cars and neither heating, cooling nor electricity are generated directly on site. By purchasing 100% electricity from renewable energies and district heating for heating, there are also only minimal Scope 2 emissions.
At our headquarters in Freistadt, the biggest cause of Scope 1 emissions is our vehicle fleet: Although around 60% of our cars are already on the road electrically, Scope 1 emissions make up around 30% of the overall site footprint. This makes it clear that the contribution of fossil fuel vehicles is not negligible, since a relatively small number of vehicles with internal combustion engines can also have a significant impact.
However, as with most companies, indirect Scope 3 emissions make up the largest share of CO2 emissions.
Expressed as a percentage, at neoom scope 3 emissions make up 65%, scope 2 emissions 6% and scope 1 emissions 29% of our total corporate carbon footprint.
The most important key figure for neoom is the CO2 footprint per employee. This number enables comparability from year to year despite the changing size of the company and was 6.6 tons per employee in 2021. The goal now is to reduce this key figure year after year!
neoom CORPORATE CARBON FOOTPRINT
2021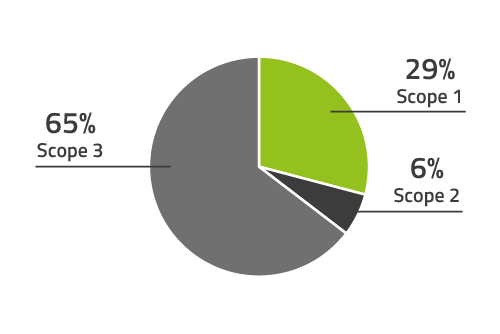 Reduction & Compensation
One thing is clear: For neoom the topic of CO2 reduction is the top priority. That is why, based on these calculations, we derive measures to reduce our footprint and thus achieve real added value for climate protection.
However, since there are always unavoidable emissions in a corporate carbon footprint and we want to make a positive contribution already now, neoom has decided to include CO2 compensation through climate protection projects in our strategy. An approach that is also recommended by the UN. But that's not all.
The neoom reduction and compensation strategy works on several levels. Together with our employees and Climate Partner we have selected a climate protection project to compensate for the entire emissions of the CCF. It is important to work with trustworthy partners in order to guarantee the quality of the compensation certificates. With our Gold Standard certified climate protection project, we do justice to the social dimension of sustainability by making the project an important contribution to achieving the UN Sustainable Development Goals. In addition, with our investment in CO2 certificates, we help close the financing gap for sustainable development in developing countries and implement the design of ecological systems.
In addition, as a tech company, we want to break new ground and make innovative solutions marketable. That's why we support the Swiss company Climeworks with around 50% of the costs of the compensation measures of our selected climate protection project. Climeworks uses state-of-the-art technology in the form of the "direct air capture" method to remove carbon dioxide directly from the air using CO2 collectors in order to reverse emissions that have already been emitted. The carbon dioxide separated from the air and dissolved in water is then pressed into the ground, where it reacts with the rock and thus petrifies underground through natural processes. This means that the CO2 is permanently stored and thus neutralized.
We are pleased that, together with our partners, we have developed effective measures for calculating, reducing and offsetting our corporate carbon footprint in order to be able to address the many different levels of sustainability. More information can be found on our Sustainability Page.
Because this is the only way we can achieve a long-term effect together and set a good example.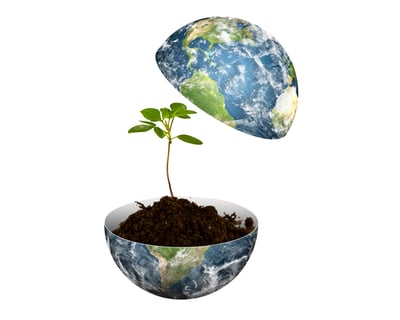 Loic Maßen, Vanessa Müller, Sebastian Dietl, 2021, Climate Partner Academy: Grundlagen des Klimaschutzes für Unternehmen, S. 37.