Is a home PV battery storage worthwhile in 2023?
By purchasing a PV battery storage system, you can increase the self-consumption of the solar power you generate, use it more effectively and thus become less dependent on large energy suppliers. This means you are less affected by fluctuations in electricity prices and can cover a higher proportion of your electricity needs with renewable energy.
The advantages of buying a PV energy storage system
There are a few reasons why it makes sense to buy an energy storage system to complement your PV system:
Increase self-consumption:
With a PV storage system, you can use your electricity generated by the photovoltaic more effectively. For example, surplus electricity produced during the day can be stored and used in the evening when less solar energy is available.


Greater independence:
By consuming more of the power you produce yourself, you can cover more of your needs. This reduces your dependence on large electricity suppliers. Consequently, you are less affected by rising electricity prices or fluctuations in electricity prices. In addition, you can contribute to relieving the public grids and be more independent in the event of a blackout, as long as the system of your electricity storage unit allows it.


Reduction of electricity costs:
By using your solar power more effectively and being less affected by price increases, you have the opportunity to significantly reduce your electricity costs.


Sustainability:
By storing your PV electricity, you can use it more efficiently and obtain more energy from sustainable sources. In this way, you make an important contribution to energy transition.
neoom


energy storage systems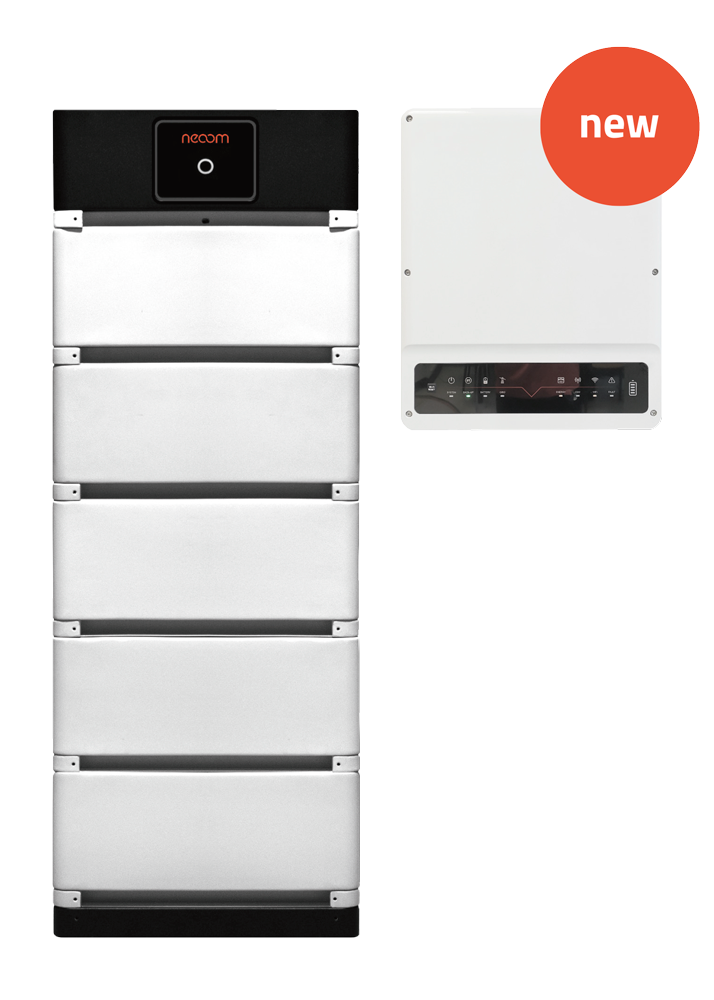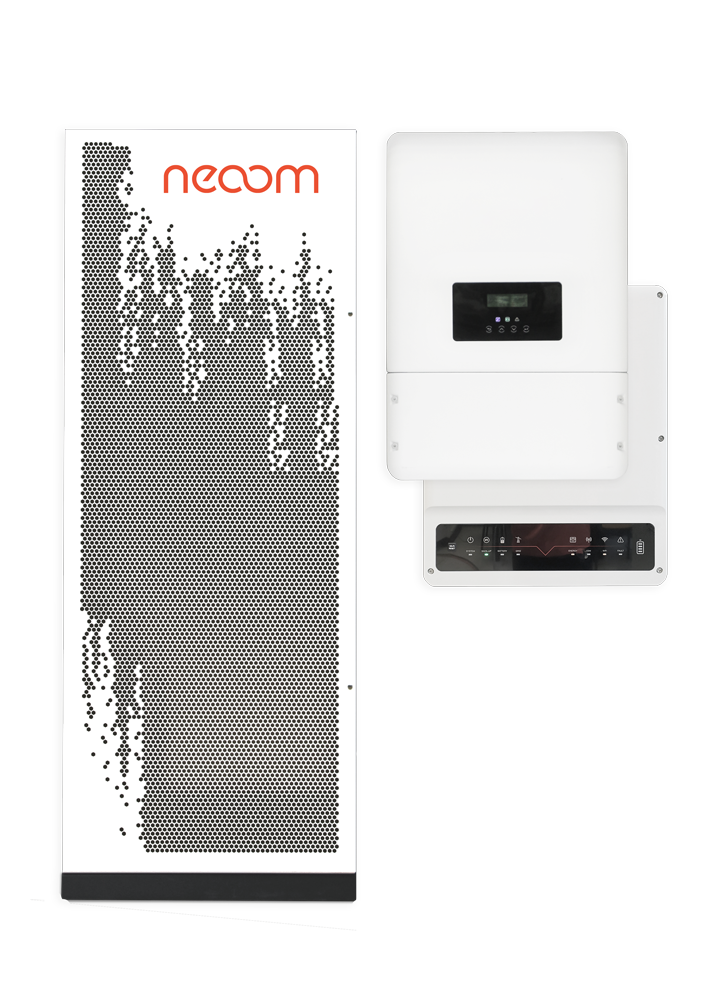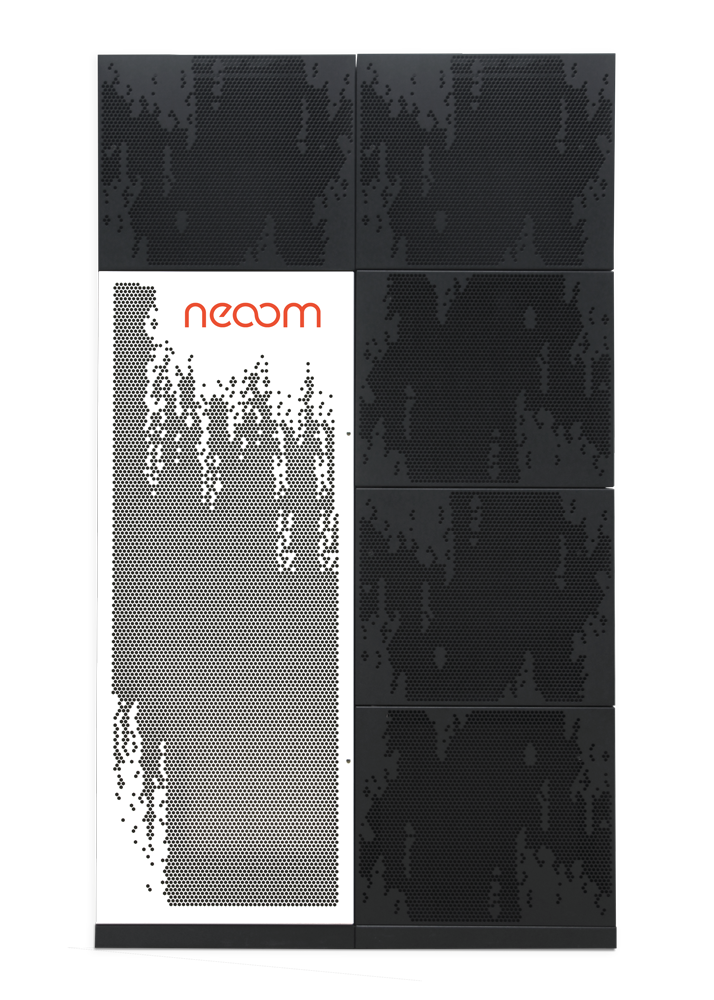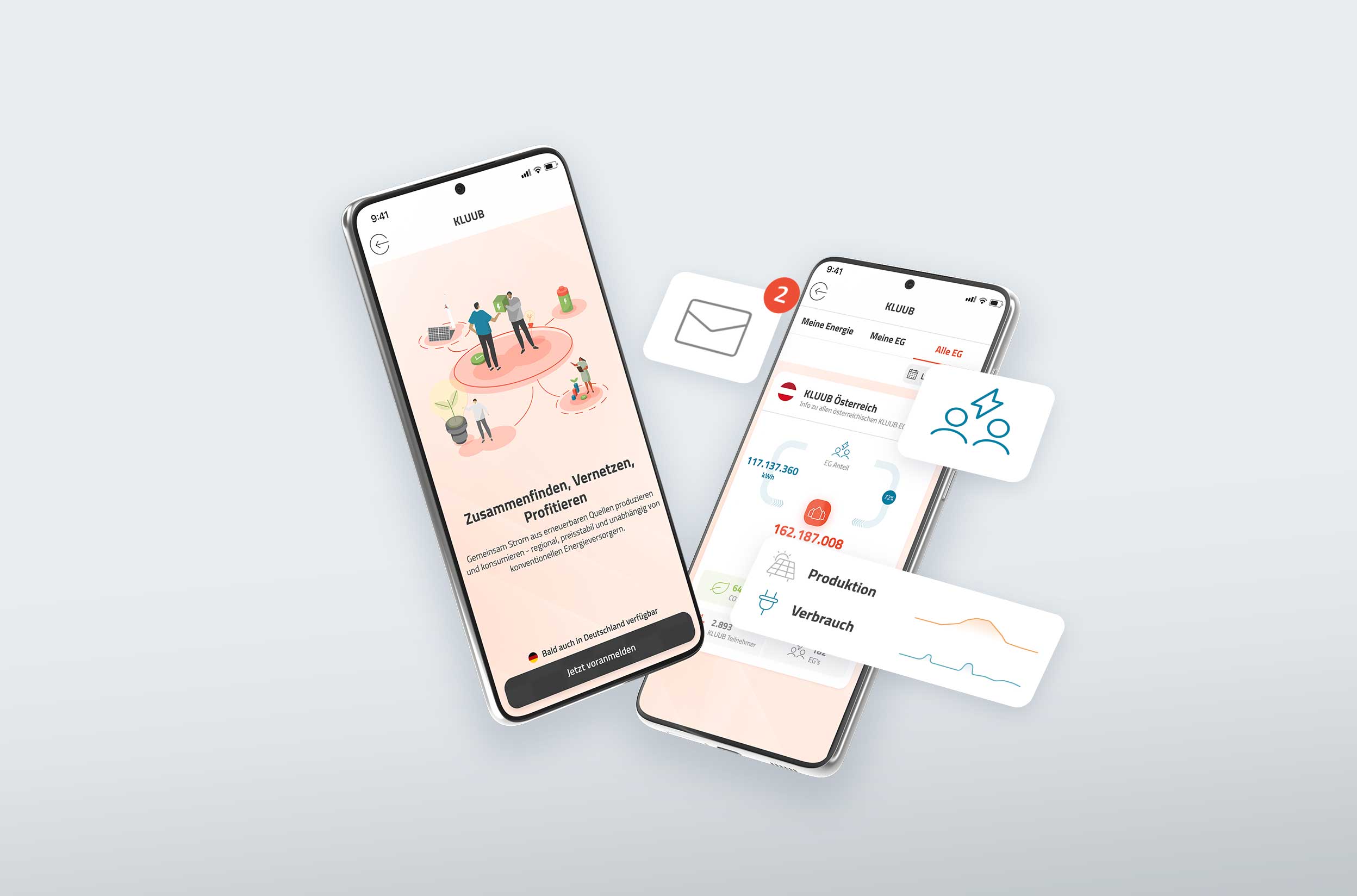 Electricity storage x neoom APP
With the neoom APP, you have an entire Internet of Energy platform at hand, with which you can link all your energy devices, including the energy storage system. In this way, you can manage the energy flow optimally and keep an eye on the output of your PV system at all times.
What is an electricity storage system and how does it work?
A PV energy storage system is a battery that is charged as soon as the production of PV electricity is higher than the consumption. More precisely, this means that the solar radiation hits the photovoltaic system, which generates direct current. In order to use this in the household, the electricity must be converted into alternating current by an inverter. If this electricity is not needed, the energy storage unit comes into play. The surplus energy is stored and can be used as needed. Only when the storage unit is fully charged, the excess solar generated electricity is fed into the grid. As soon as the PV system produces less electricity than needed - for example, when the sun is not shining - the energy of the storage unit is used.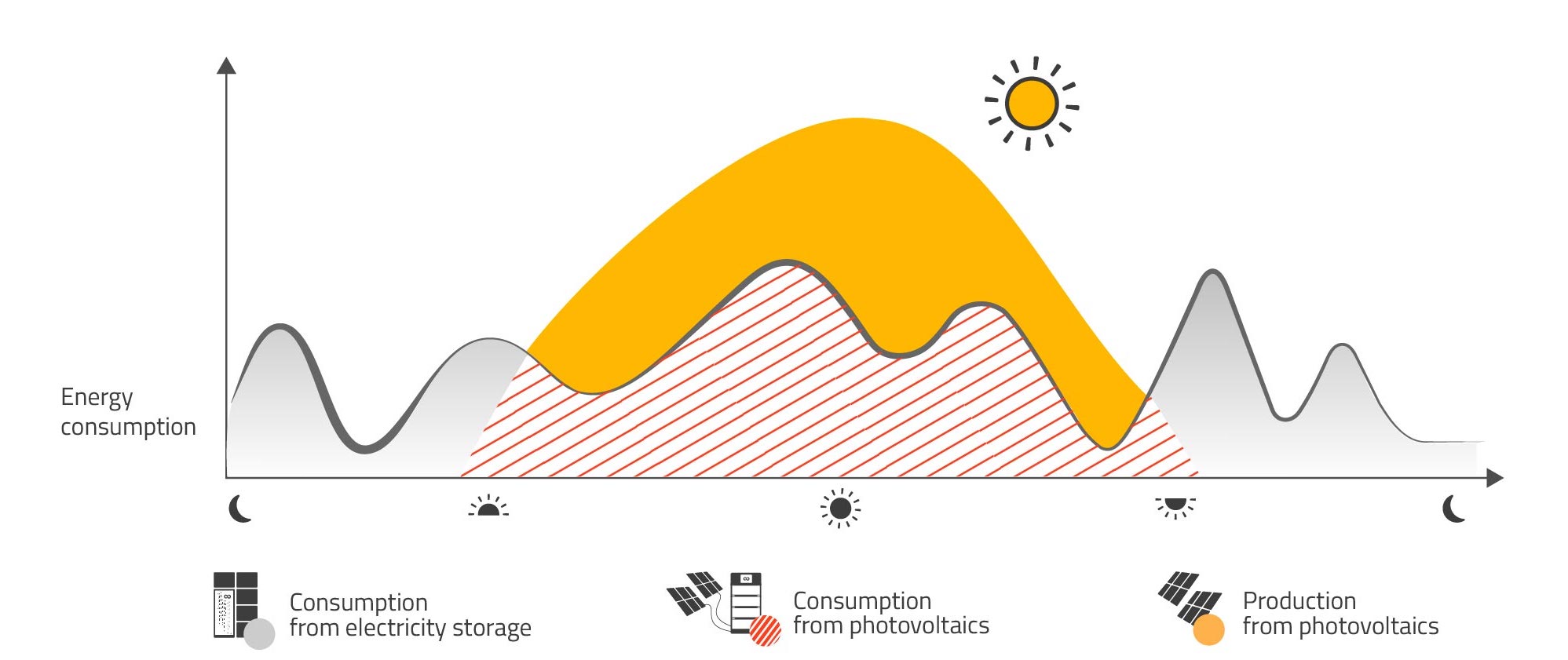 Infographic on how electricity storage works
You produce more electricity than you need with your photovoltaic system and know how to store your solar energy? With the KLUUB, a feature of our neoom APP, you can set up an energy community with others in your neighbourhood. This allows you to sell self-produced, surplus electricity to your neighbours. You decide where your electricity goes!

More about energy communities >
Stay up to date on energy storage systems
What does an electricity storage system cost in 2023 and how is the economic efficiency of solar storage systems calculated?
The price of an energy storage system can vary and depends, among other things, on the usable storage capacity, the storage size, the technology and the depth of discharge, but also on the individual conditions on site. Since we want to offer you an offer that is tailored to your individual needs, we have developed a PV storage calculator (contact us for more information on this) that will help you find an energy storage system of the right size. Subsequently, you will benefit from the individual support of one of our partners and receive a customised offer including an estimation of costs.
Economic efficiency of electricity storage systems:
The following factors are included in the calculation of the economic efficiency:
Initial costs of the solar energy storage system
Cost of purchasing electricity from the grid
Average power consumption
Savings from self-consumption of self-produced solar power
Possible income from feeding surplus solar power into the grid or selling it to other people in your neighborhood
On this basis it can be calculated after which period of time the investment in an energy storage system will pay off.
When is it worth buying an electricity storage system?
A photovoltaic energy storage system is always worthwhile if you produce more electricity with your PV system during the day than you consume, as this allows you to increase your own consumption. For example, if you are not at home during the day and your electricity consumption is correspondingly low, you can use a PV storage unit to store the electricity you do not use. When you finally need it, e.g. in the evening, you can fall back on your PV electricity.

For private use at home, our hybrid home storage unit KJUUBE, the KJUUBE Light and the stackable KJUUBE Light S are particularly worthwhile. They allow you to make your home completely energy-independent even in the event of a blackout. In addition, you can expand the KJUUBE Light S at any time thanks to its modular expandability. The KJUUBE Light, on the other hand, is the ideal home storage unit for simple applications where no energy management is required.
Fast & Safe
KJUUBE Light S
Two criteria that exclude each other? Not with the KJUUBE Light S. The KJUUBE Light S convinces with its quick assembly and its technical safety! So you can make your home energy independent, even in case of blackouts.

Power storage in case of blackout >

Which PV battery storage should I buy for my home?
Which photovoltaic energy storage system is right for you depends on a number of factors, such as your consumption profile or the areas of application. What storage size and capacity do I need? What types of storage are there? You will find the answers in the following sections.
What types of storage are there?
The following storage systems are currently being increasingly used:

1. Lithium-ion batteries:
Lithium-ion batteries are mostly used nowadays because they are considered to be particularly durable and powerful. Unlike lead-acid batteries, lithium-ion batteries can be charged and discharged frequently, so they have a high number of discharge and charge cycles. In addition, they are characterized by a higher depth of discharge and energy density as well as a higher efficiency. Thanks to their low flammability, the battery technology is also considered particularly safe.

Among lithium-ion batteries, a distinction can be made between two different types:


Lithium-Nickel-Manganese-Cobalt-Oxide (NMC):

Particularly suitable for electric vehicles thanks to fast charging capability, high energy density and small space requirements.

Lithium iron phosphate (LiFePO) batteries:

Particularly suitable for home storage due to low heat generation, high safety and increased space requirements. LiFePO4 batteries also score in terms of sustainability, as they do not require heavy metals or rare raw materials. neoom therefore relies on this high-quality technology for its home storage units.
Read more about the best battery technology battery technology in our article.


2. Saltwater batteries (sodium battery):
Sodium batteries are based on salt water and do not contain any environmentally harmful materials. They are highly efficient, but have a low energy density and therefore a higher space requirement. At the moment, saltwater batteries are still considered a niche product, which is why there are no long-term experience reports on them yet.


3. Lead-acid batteries:
Lead-acid batteries were mainly used at the beginning, when photovoltaic systems were not yet widely used. Although they are somewhat cheaper, they have a significantly shorter life span and depth of discharge than lithium-ion batteries. Consequently, this also results in a lower net capacity.
PV battery storage: single-phase or three-phase?
When it comes to buying an electricity storage system, you can choose between a single-phase and a three-phase storage system.
Storage capacity: What size do I need for my PV storage unit?
To calculate the storage capacity, we consider, among other things, the area of the PV system and the annual electricity consumption.
Example:
If a PV area of 100 m2 is available for a household of 4 with an annual electricity consumption of 4500 kWh, we recommend an electricity storage unit of 22.4 kWh. This ensures optimal efficiency of your PV system and increases the share of self-consumption. You can use our calculator for photovoltaic energy storage to evaluate which size you need for your individual requirements.
What is the difference between AC and DC?
AC stands for alternating current and DC for direct current. In principle, PV modules generate direct current, which is also stored as such in the energy storage system. However, since alternating current flows in the household, an inverter is needed to convert the PV current.
Electricity storage with emergency power or backup power function
In the event of a power failure, electricity storage units with an emergency power or backup power function (emergency generating unit) offer greater supply security and less dependence on the public power grid. The aim is to ensure that as many appliances as possible can continue to run in the event of a power grid failure. But is there a difference between emergency power and backup power (an emergency generating unit)?
Is there a difference between emergency power and backup power?
In everyday life, the terms emergency power and backup power are often mixed up because the systems are very similar. The most important difference is merely that in the event of a power failure, only the most important consumers can be supplied by means of emergency power, whereas in the backup power system, all consumers in the entire house continue to be supplied with electricity. We will also merge the terms from now on.
What is backup power?
In the event of a power failure, the backup power system provides a comprehensive power supply for the entire house. The following additional advantages go hand in hand with it:
Three-phase power supply: standard consumers are supplied with power in every room. This means that you can, for example, charge your mobile phone, watch TV or turn on the lights as normal.
Three-phase capability: Appliances that consume large amounts of electricity, such as a heat pump, are also supplied with electricity.
Island-capable: The system continues to run in grid backup mode and provides power to the consumers and charges the electricity storage unit via the internal PV system when the sun is shining.
Black start capability: The power supply restarts when the sun shines, even if the battery modules were completely discharged.
With the KJUUBE Light S power storage unit, you are well prepared for power outages thanks to its backup power function and can ensure an all-round power supply in the household.
Which PV battery storage systems are subsidised?
For photovoltaic systems and solar storage units, there are some nationwide, but also state-specific subsidies. In general, however, energy storage systems are only subsidised in combination with PV systems.
Nationwide PV & energy storage subsidies

Nationwide, there are a few subsidies to choose from for your PV products.


"raus aus Öl und Gas" 2023/2024:

This promotion is designed to make it easier for private individuals and businesses to switch from a fossil fuel heating system to a sustainable heating system. Since April 2022, the campaign also offers the possibility to apply for a solar bonus of up to €1500 if a solar system is installed in connection with boiler replacement. For more information, visit www.oesterreich.gv.at.
Market premium for photovoltaic electricity fed into the grid (Erneuerbaren-Ausbau-Gesetz - "EAG" (Austrian Renewable Energy Expansion Act): The market premium subsidises fed-in PV electricity and is applicable for

New PV installations/extensions with more than 10 kWp
Bids in the 2022 and 2023 incentive calls, which have a maximum value of 9.33 cents/kWh
PV systems in the area: buildings, infrastructure & open land



Investment subsidies under the EAG: In 2023, there are again additional funding calls based on the EAG. Subsidies are available for the installation and expansion of PV systems and the associated purchase of energy storage systems. The following funding calls exist for 2023:

1st funding call was possible until April 6, 2023.
2nd funding call: June 14 to June 28, 2023
3rd funding call: August 23 to September 6, 2023
4th funding call: October 9 to October 23, 2023.
Learn more about the Renewable Energy Expansion Act (EAG) here. You can also find more information about applying for the PV and energy storage investment grant here.
Energy storage systems promotion campaign 2023: Energy storage systems for existing electricity generation plants for renewable energy are subsidised. The subsidy is limited exclusively to the installation of new and the expansion of existing energy storage systems. The amount for the energy storage subsidy is 200 euros per kWh of usable storage capacity. To apply for the subsidy, you must register on the online platform for private individuals or businesses.
State-specific PV & electricity storage subsidies
There are also some subsidies in the field of energy storage and photovoltaics at state level. You can read more about the subsidies in the individual federal states here.

You don't want to miss anything regarding subsidies? Stay up to date and be the first to hear about exciting news and updates on the topic.
Get your PV storage with neoom
With neoom's sustainable and cost-efficient energy solutions, you not only save costs - you also reduce your CO2 emissions and take a big step towards independence and self-sufficiency. We support you in your energy concept with proper advice and service through our partners.

Contact us now so that we can find a partner for you in your area. This partner will contact you directly and take care of the further processing.
You want to become a partner?
Find out which advantages you will benefit from with our partner program!
Buy electricity storage: FAQs
How big should an energy storage unit be for a single-family home?
For a single-family home with four people, a power storage unit with a usable storage capacity of 22.4 kWh is recommended. This value is based on the usable PV area and the annual electricity consumption. Read more about how to determine
size of your PV storage
here.
How much does a 10 kWh energy storage unit cost?
The costs of an energy storage unit can vary and depend, for example, on your local conditions. One of our partners will be happy to provide you with a customised offer and price. You can also use our PV configurator to have the storage unit put together in the size that suits you best and receive an offer from a partner near you based on the information you provide. Read our article to find out more about the costs and cost-effectiveness of energy storage systems.
Which storage technology is best for domestic use?
Lithium-ion-based energy storage systems are currently the most widely used. They are characterised by the fact that they can be charged and discharged very often and have both a high depth of discharge and a high efficiency.
Why should I buy an energy storage system?
With a battery storage system, the energy generated by your PV system is always available. This makes you more independent of the power grid and also allows you to increase the self-consumption of your solar power. Read our article to learn more about the
advantages of electricity storage
.
News from the

World of neoom
Blog

|

instagram
Referenzen

|

instagram
Blog

|

instagram
Referenzen

|

instagram
Referenzen

|

instagram
Blog

|

instagram
Blog

|

neoomiverse

|

instagram
Blog

|

instagram
Blog
Blog

|

instagram
Blog

|

instagram
Blog

|

instagram
Blog

|

instagram
Blog

|

instagram
Blog

|

neoomiverse

|

instagram

neoom x Katrin Fleischanderl: Match im ersten Moment

Seitdem unterstützt sie in der Abteilung 'Projects' bei der Verwirklichung von dezentralen Energiesystemen in Unternehmen. Sie begleitet die neoom...

Autohaus Feichtmayr: Freie Fahrt auf dem Weg zur Dekarbonisierung

Und so sehen die einzelnen Grad dieser 360° Gesamtlösung aus: Eine 115 kWp Photovoltaik-Anlage produziert direkt auf dem Dach des Autohauses den...

Series-B-Extension Runde: B&C investiert in neoom

neoom verzeichnete bereits dank der Series B Runde erneut ein kräftiges Wachstum – umso mehr freut es uns, dass auch das Investment in neoom...

Energiegemeinschaft Wienerwald: Sonnenstrom für alle

2010 ergab eine Analyse aus Expertenhand, dass 78% der in der Region Wienerwald verbrauchten Energie fossilen Ursprungs sind. Ein Umstand, mit dem...

Josef Wyss Sägerei: Energie aus dem richtigen Holz geschnitzt

Die Partnerschaft mit neoom entstand durch ein Großspeicherprojekt mit dem Fokus auf Peak Shaving. neoom überzeugte durch seine starke Kompetenz in...

Dominik Neunteufel: Green Career loading

Dominik Neunteufel war von Anfang an vom Thema Erneuerbare Energien fasziniert. Damit aus der Faszination eine Aktion wird, hat er sich eine...

#neoomlive04: Mit neoom's action plan zur Energiewende

"Wir sind die Generation, die für die Nachkommenden das Leben besser macht!", betonte unser CEO Walter Kreisel gleich zu Beginn unseres Events...

EU beschleunigt Genehmigungsverfahren für erneuerbare Energien

Series B Finanzierungsrunde: 25 Millionen Euro für die Digitalisierung der Energiewende

Die Finanzierungsrunde wurde von Summiteer angeführt, einer Investmentgesellschaft, die vom Unternehmer und ehemaligen Akasol-CEO Sven Schulz...

Aktueller Status & Antworten rund um die THG Quote in Deutschland & Österreich

World Systemic Forum: Gedankenexperiment im VersuchsStollen Hagerbach

Normalerweise wird der 5,5 km lange VersuchsStollen Hagerbach im Schweizerischen Flums mit seinen zahlreichen Felsformationen, verschiedentlichen...

Strom untereinander teilen – die Energiegemeinschaft Taufkirchen macht es vor!

Energiegemeinschaften ermöglichen genau das neuerdings allen Menschen in Österreich! Genauer gesagt erlauben sie den Mitgliedern der...

neoom: Ein Stern weist den Weg in die Energiewende

Es gibt schließlich einiges zu berichten: Von Produktlaunches, Umzügen & Büroeröffnungen, gemeinsamen Erfolgen & neuen neoom heroes und natürlich...

ePrämie für Elektroauto holen mit der THG-Quote

Es fallen rund 65% der deutschen Emissionen in den drei Sektoren Strom, Wärme und Transport an. Hinsichtlich der Erzeugung von Strom und Wärme gibt...

#neoomliveX: Mit einer Zeitenwende zur Energiewende

"Wir haben keine Energiekrise, wir haben eine Krise der atomaren, fossilen Energieträger!", betonte der ehemalige Bundestagsabgeordnete & Präsident...

read more
read more
read more
read more
read more
read more
read more
read more
read more
read more
read more
read more
read more
read more
read more